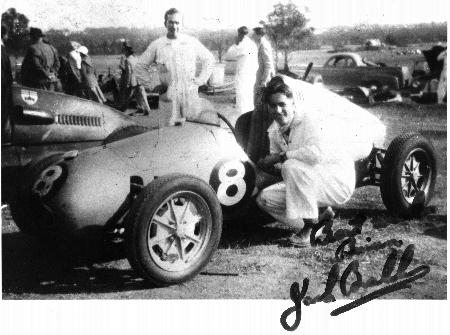 A fascinating and very historic

1 minute and 5 seconds video clip of Aussie Road Racing at the old

Mt Druitt circuit west of Sydney in 1953.

It features Jack Brabham in his silver blue Cooper HRD # 8, you can also see Clive Adams in # 47, Bill Clarke HRG, Tom Sulman, Bill Shipway ( white Cooper) and other local drivers.

Video and audio engineering by Glenn Munro.. ( thanks Glenn).

This clip is a 2.6 MB download so it will take a short while to download on ADSL and Cable, a lot longer on dial up.

To start the clip just click on the photo of Jack Brabham on the left.

Turn your sound on too !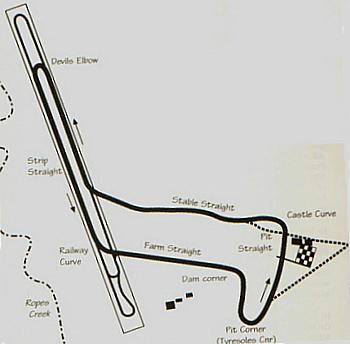 Mt Druitt Motor Racing Circuit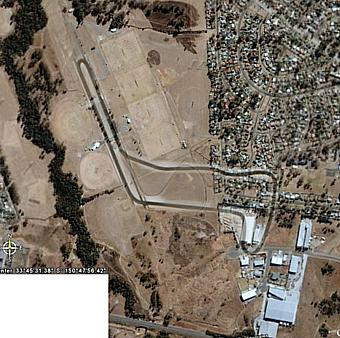 Overlay of Mt Druitt circuit on current aerial photo

Circuit map courtesy of Darren Galpin's website ' Tracks in Asia & Australasia' and overlay done by Paul Alessi.. thanks Darren & Paul.    Overlay is as approximate as possible.
I took this photo with my trusty Box Brownie camera in 1953 .....Brian.

Mt Druitt Motor Racing Circuit - A Brief History.

Quote " Situated some 45 km west of Sydney a disused light aircraft landing strip was obtained by the Australian Sporting Car Club (ASCC) in 1948 for use as a race track. The first meeting, with the track marked by drums at either end of the 2.9 km track, was held on Show Day 4th. October 1948, with the first race ( for Fully Equipped Roadsters under 1500cc) being won by George Pearse in an MG T.B.  The meeting's two main Handicap races were won by Roy Murray ( Bugatti Type 37 - under 1500cc) and Jack Murray (Day Special over 1500cc) who also recorded the fastest lap of the day at 1 min 30 secs.

In 1952, Belf Jones laid down a full road circuit on adjoining land owned by a Sydney business man, a Mr McMahon, the track being 2.25 miles in length and incorporating much of the airstrip. The first race meeting on the new circuit was conducted by the newly formed Australian Racing Drivers Club ( ARDC) on 30th November 1952, with the first race being won by Alf Swadling in an MG TC.  The main event, a 50 mile Handicap, was won by David McKay (MG Special) from Bill Shipway ( Cooper 500cc ) and George Pearse (MG TC s/c.)

Over the next five years some 25 race meetings were held at the Mt Druitt circuit, with spectator attendance often exceeding 15,000. One outstanding meeting was the ' 24 Hour Race ' on 31st January - 1st February 1954, won by the Jaguar XK 140 hardtop driven by Bill Pitt, Chas. Swinburne and Mrs Geordie Anderson. On the 10th November 1957, what became the circuit's last race meeting was held. Leo Geoghegan ( 1950 Holden Sedan) clinched the ARDC Championship, while the last race of the day, a 6 lapper for sedans and touring cars , was won by Bill Slattery in an FJ Holden Sedan.

In February 1958, a meeting between promoter Belf Jones and the ARDC failed to reach and agreement on the future conduct of the Mt Druitt circuit meetings and shortly afterwards irreparable damage was done to the road section with a ditch digger. The airstrip was undamaged however and a number of Sprint meetings were held on it in 1958, one of which being won by Frank Gardner (D-type Jaguar ) and another by Len Lukey

( Cooper Bristol ), with Arnold Glass ) HWM Jaguar ) second.

The introduction of the NSW Speedway ( Public Safety ) Act 69 the following year meant the end of this famous circuit, which in just one short decade had established many great names in Australia's motor racing history."

Unquote

Thank you to Max Stahl for supplying this brief history.