We go on to page two of this very interesting collection of Aussie Road Racing photos from the 1950s and 1960s in Tasmania...Copyright on all photos.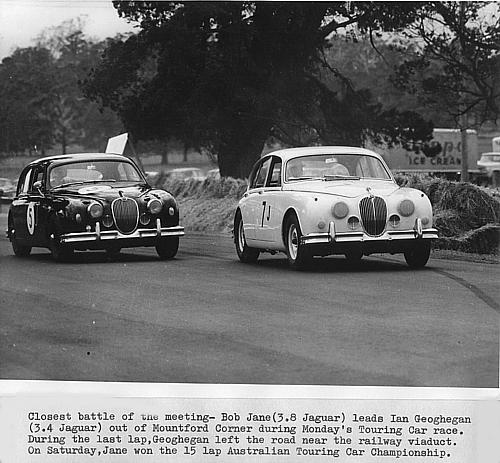 What a magnificent sight ! The big cats battle it out.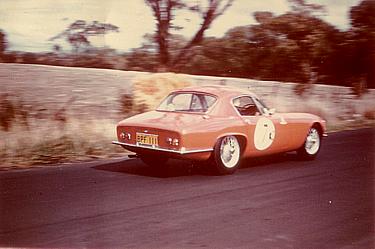 Longford 1962 : Lotus Elite Stage 3 entered by Scuderia Veloce, Driven by Brian Foley.

Harry Cape's factory tuned twin cam MGA Coupe running in the GT Appendix K class.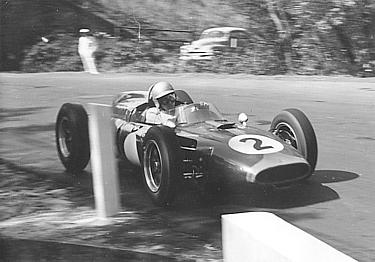 Winner of the 1962 South Pacific Championship International Gold Star race - Five times world motor cycle champion, John Surtees comes out of the Viaduct in the 2.7 litre Yeoman - Credit Cooper Climax # 2.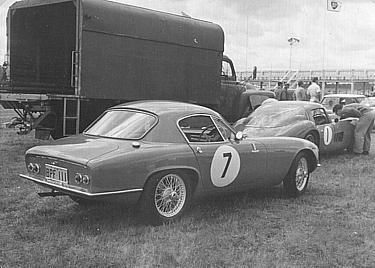 Another pic of the Brian Foley Scuderia Veloce

Lotus Elite # 7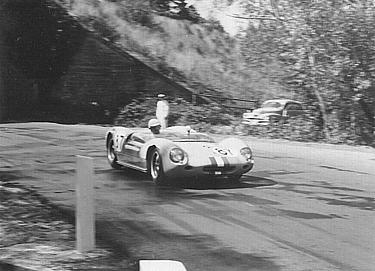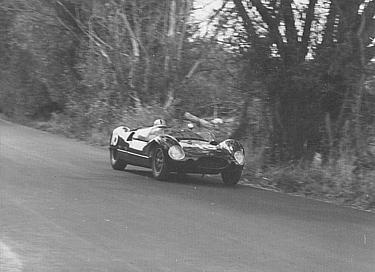 The two main contenders for Sports Car honours in the 60s,

Above : Frank Matich in the Lotus 19 Monte Carlo and Bib Stillwell in the Cooper Monaco.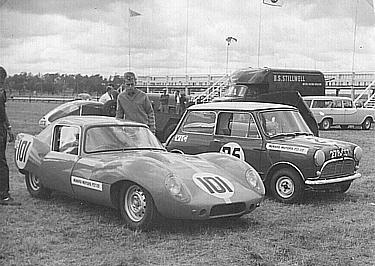 Monaro Motors entries, Gran Turismo Elfin # 101 and the ex Ron Flockhart Mini Cooper # 25.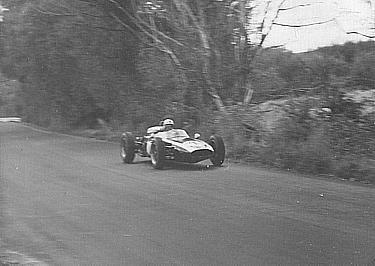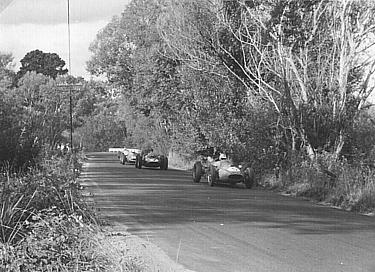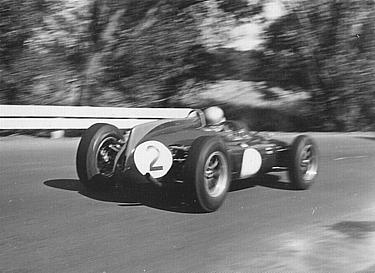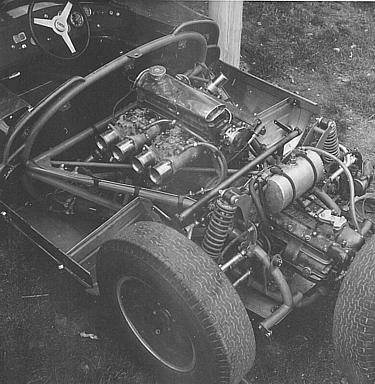 Down the quiet country lane power John Youl ( 2.2 Cooper), Arnold Glass (BRM), David McKay ( 2.5 Cooper) and Austin Miller ( Cooper Corvette).

The Coventry Climax power plant of Bib Stillwell's Cooper Monaco. The car was timed at 160 MPH on the Flying Mile.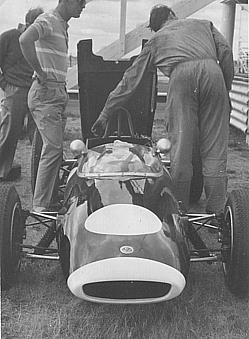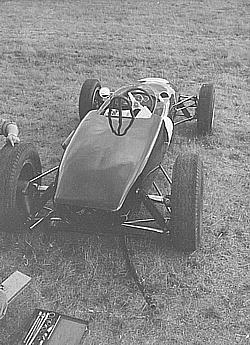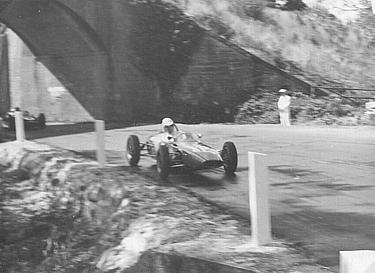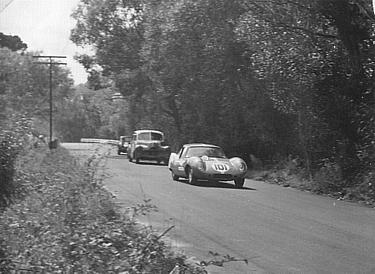 Leo Geoghegan tweaks the throttle on his Lotus 20.

A rear view of the black Geoghegan Lotus 20.

Down that same country lane come George Spanos

( GTS Elfin) Dave Lewis ( Holden ) and Harry Cape

( Twin Cam MGA ) in the GT race.

Tasmania's Gavin Youl was the eventual winner of the Formula Junior race in his MRD. Geoghegan in his Lotus 20 trailing Youl through the Viaduct turn.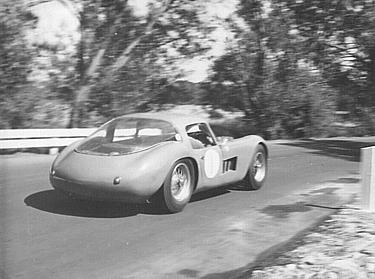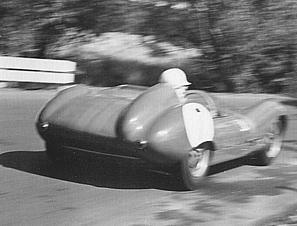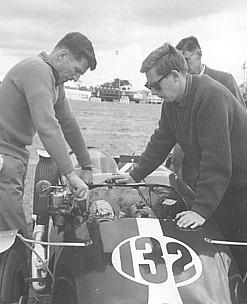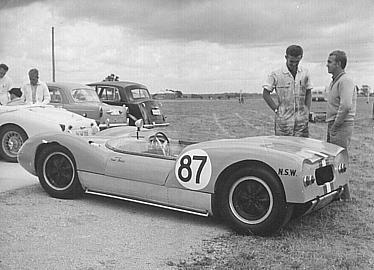 The 1100cc Lola Sports driven by Greg Cusack fron the A.C.T.

The very potent ex John Bruderlin and Leon Thomas blown MG Special gets checked over.

Bob Jane in the red 300S Maserati Sports with the hardtop for the GT Appendix K class. Jane broke a crankshaft before gridding up for the race.

A nice shot of the Matich Lotus 19 # 87. Matich chief mechanic Bruce Richardson second from the right.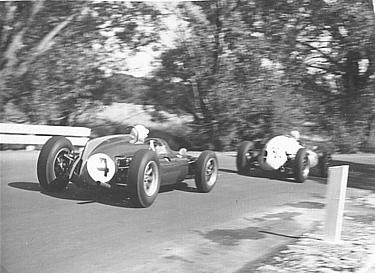 Lex Davison in Cooper # 4 lines up Austin Miller for a pass.Ten seconds after this photo was taken Davision crashed at 130 mph when approaching Longford Corner, wrecking the Cooper.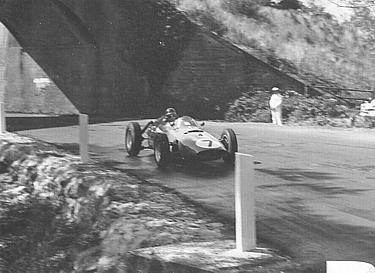 Sydney car dealer, Arnold Glass powers his BRM # 7out of the Viaduct turn.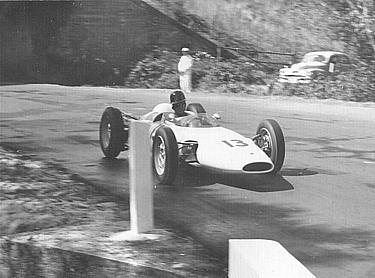 The first outing for NSW' s Bob Holden's Formula Junior Lynx # 13.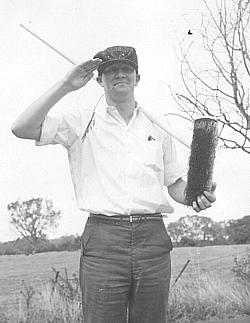 Kev says the Longford volunteer corner steward's appearance and equipment were second to none.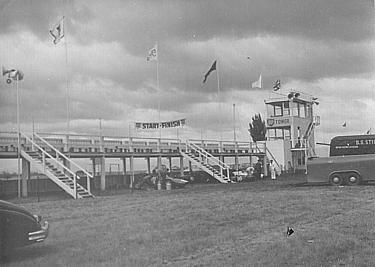 Longford Control Tower and pit area -1962.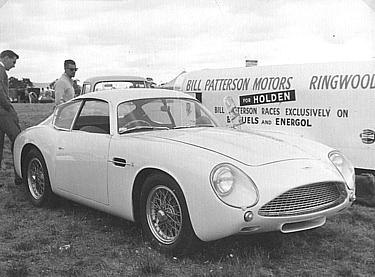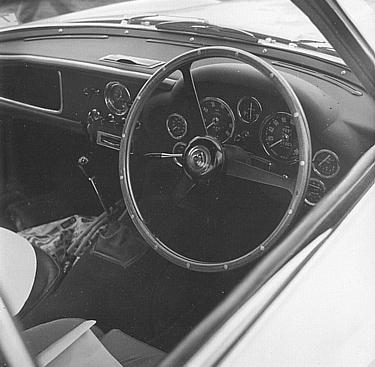 The aluminiun bodied Zagato DB4GT Aston Martin driven by Doug Whiteford & the cockpit of the car.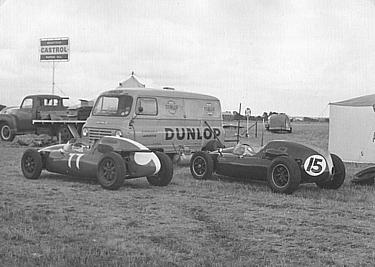 The Cooper Climax's of Lucas & Sternberg.

Sternberg went bush at Newry Corner during practice in ' 62.

ON to page 3 , Longford 1963 & Symmons Plains 1960 ......