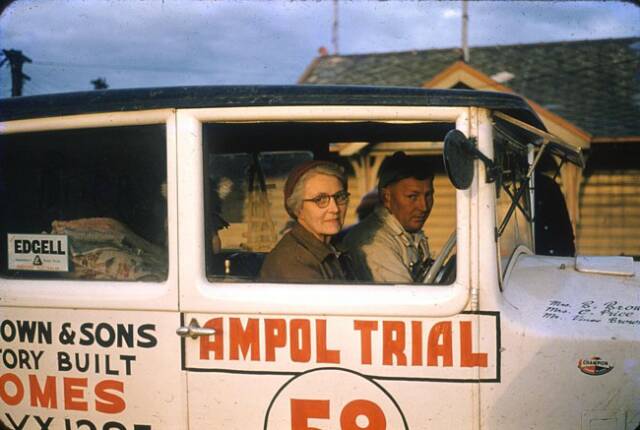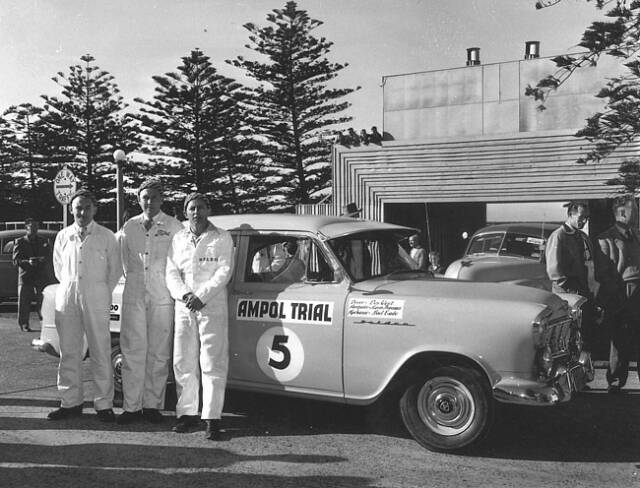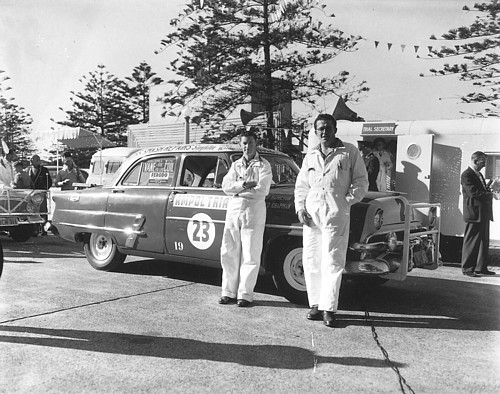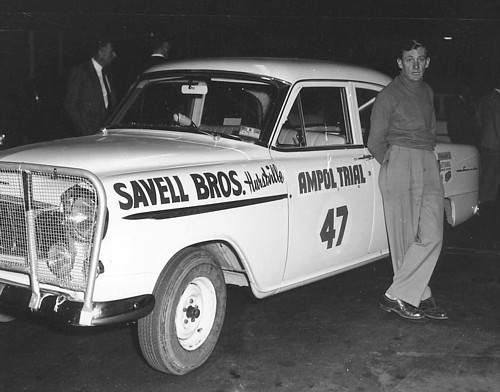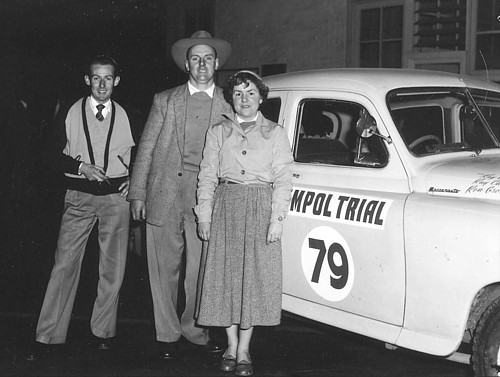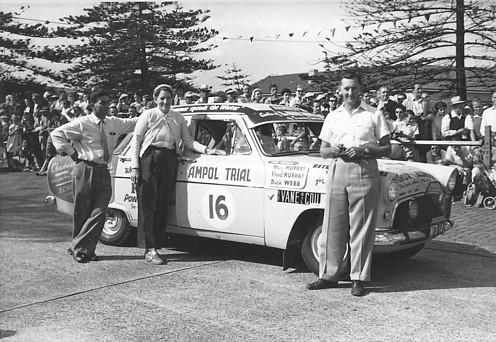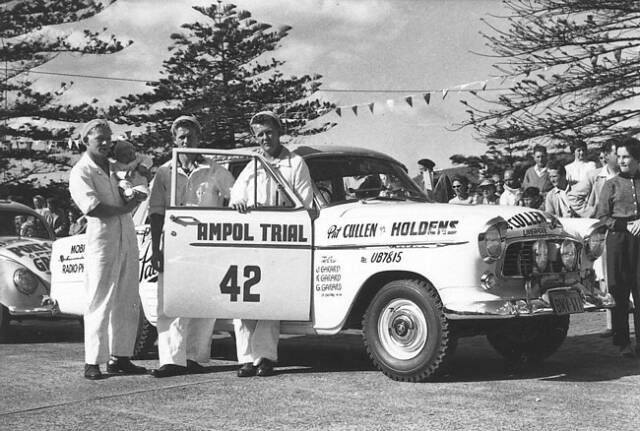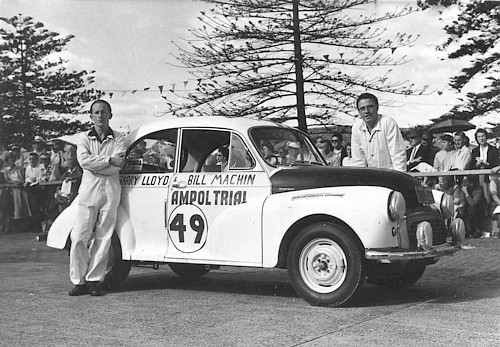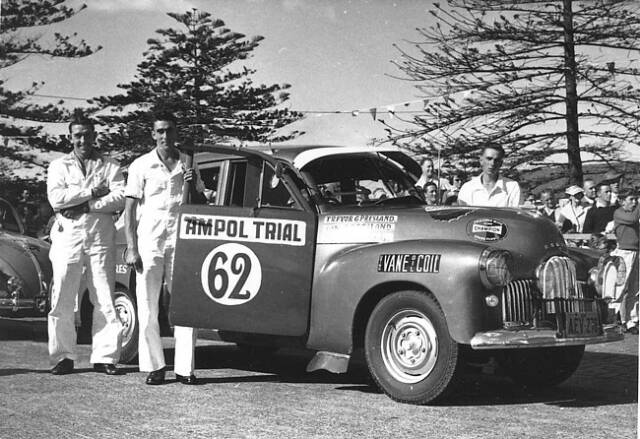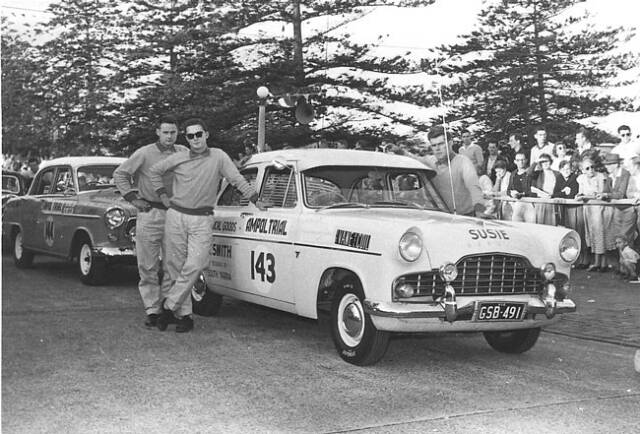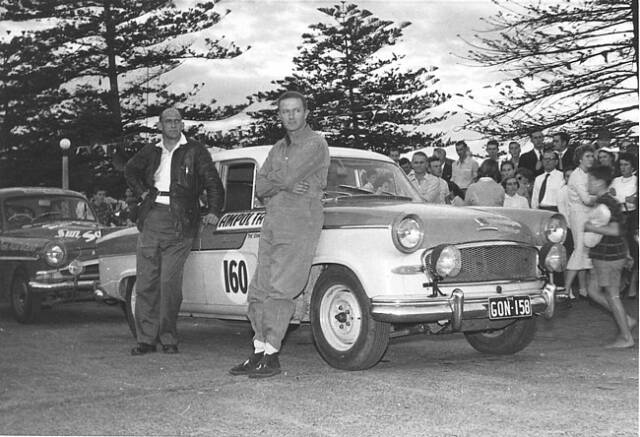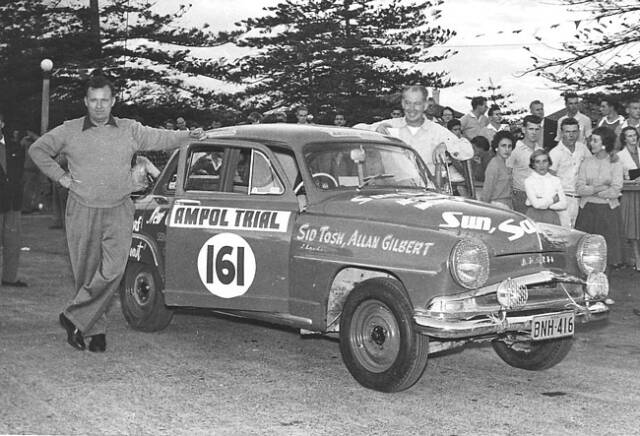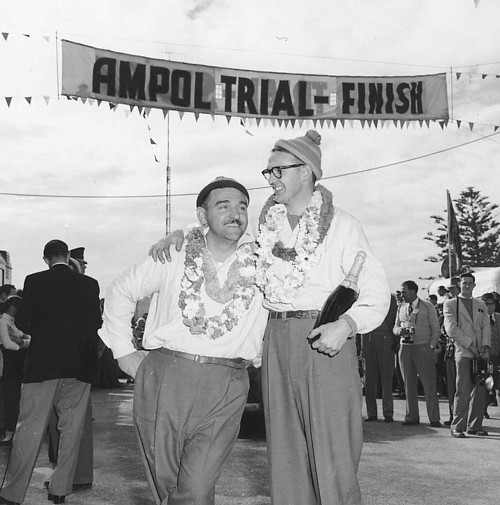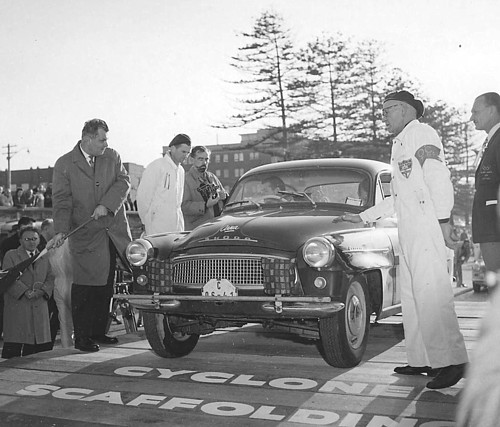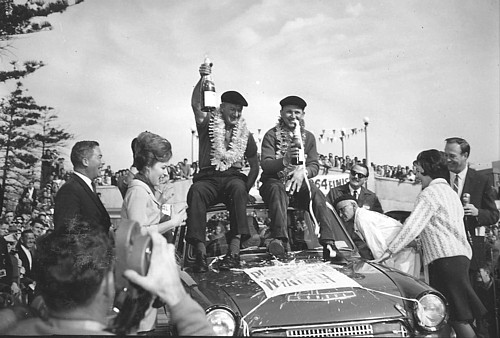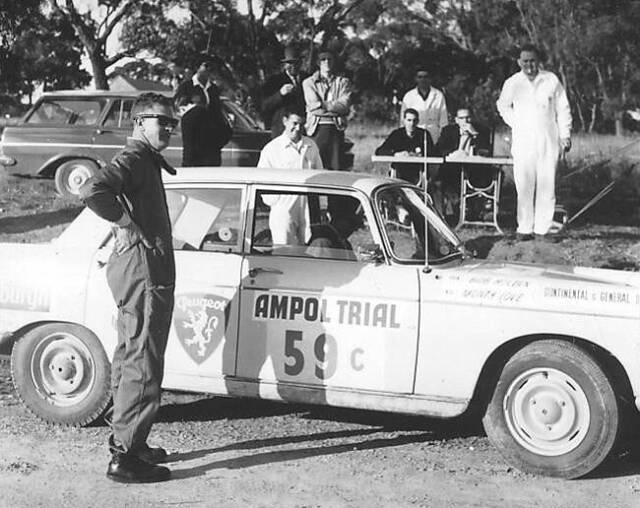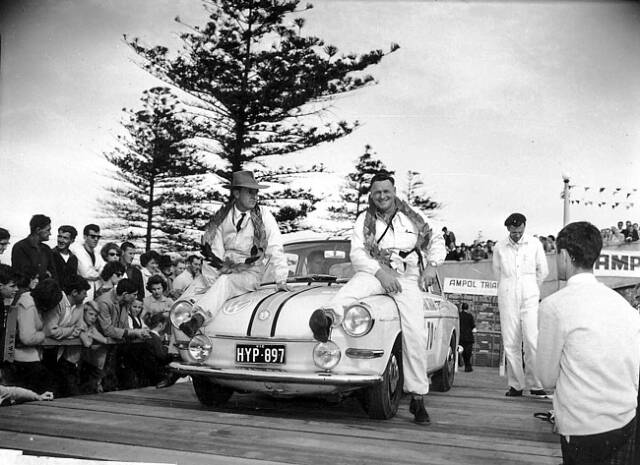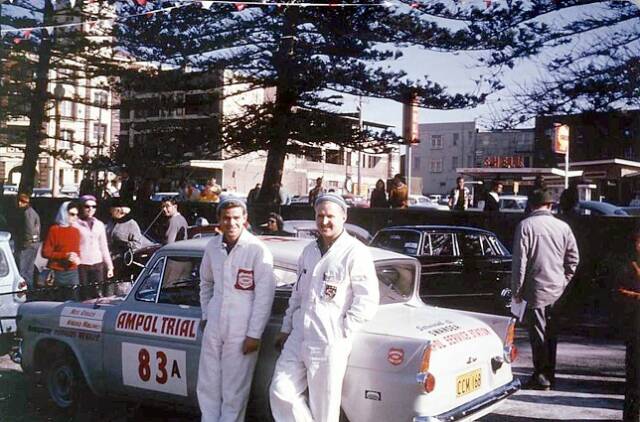 1957 - Car 58 is the famous 1927 Rolls Royce of Vince Brown and his Mother, Blanch Brown.The navigator was Cathy Price. This Rolls was 5th. outright and 1st in class in the 1957 Ampol Trial.

1957 - Car 5 - This FE Holden was crewed by Des West, Kevin Thomas and Noel Eade from Wingham. This crew finished 6th. ouright and 3rd. in class after surviving the Birdsville Track which was used for the first time in a car trial.

1957 - Car 23 is a 1953 Ford Customline entered by from Singleton NSW and crewed by Dave Hamilton and Ted Chapman.

1957 - Car 47 shows Norm Savell beside the FE Holden entered by his company, Savell Bros. Holden of Hurstville NSW - His co driver was the experienced Jack Letchford, the car did not finish.

1957 - Car 79 is a Vanguard Spacemaster crewed by Kathleen & Ray Christie along with Ron Grose. They finished 19th outright.

1957 - The winners of the 1957 AMPOL Trial were the crack drivers ,Jack Witter and Doug Stewart who drove Volkswagen # 26.

1958 - Car 14 is the Lloyd Hartnett of Tony Harbutt and Geoff Reynolds. This Sydney entry finished 74th outright and 2nd. in class.

1958 - Car 16 is the Ford Consul MkII of Mary & Fred Murray who also had Dick Webb as co driver. This car from Nambour in Queensland finished in 41st. place.

1958 - Car 36 is a Morris Major Mk 1 entered by the BMC dealer, Delore Motors in Newcastle. The driver was Elaine Lenaghan and she was navigated by her husband, Belmont Taxi owner, Reg Lenaghan.

1958 - Car 42 an FE Holden was crewed by the extremely experienced crew of John, Greg and Ross Garard from Liverpool NSW. This car finished 26th outright.

1958 - Car 49 is a Morris Minor 1000 crewed by Author, Barry Lloyd and navigated

by Bill Machin. They finished in 56th. place.

1958 - Car 62 is a well prepared 1952 Holden from Martin's Creek in NSW.The crew were Trevor Presland, Ian Presland and John McGill. This crew finished in 48th place outright.

1958 - Car 143 is a 1957 Ford Zephyr Mk1 driven by David McFarlane. His fellow crew members are unknown. This entry was from Melbourne and did not finish.

1958 - Car 160 is the Vanguard Spacemaster of Harry Firth and Ern Abbott. Harry and Ern

finished 16th.outright.

1958 - Car 161 crewed by the experienced crew of Sid Tosh and Allan Gilbert. This new Simca Aronde from Belle Vue Hill in Sydney finished in 11th place outright.

1964 - Car 19 is the Skoda of Ron Bird and Jim Horman which finished 39th outright.

1964 - Car 50 is the winning Ford Cortina of Harry Firth and Graham Hoinville.

1964 - Car 59 is a Peugeot 404 driven by Bob Holden and navigated by Monte Love. This crew finished

in 36th place.

1964 - Car 70 A Volkswagen 1500 'S' driven by Ray Christie and navigated by David Dunlop and was entered from Balwyn in Victoria. This crew were 15th. outright.

1964 - Car 83A - a Ford Anglia 105E was crewed by Hal Moloney and Neville Ridley from Swansea in NSW. This car did finish.

Thank you Hal for the opportunity to enjoy this great and unique collection of Australian trials photos.